Abstandsregler / Immer noch kein Kunststück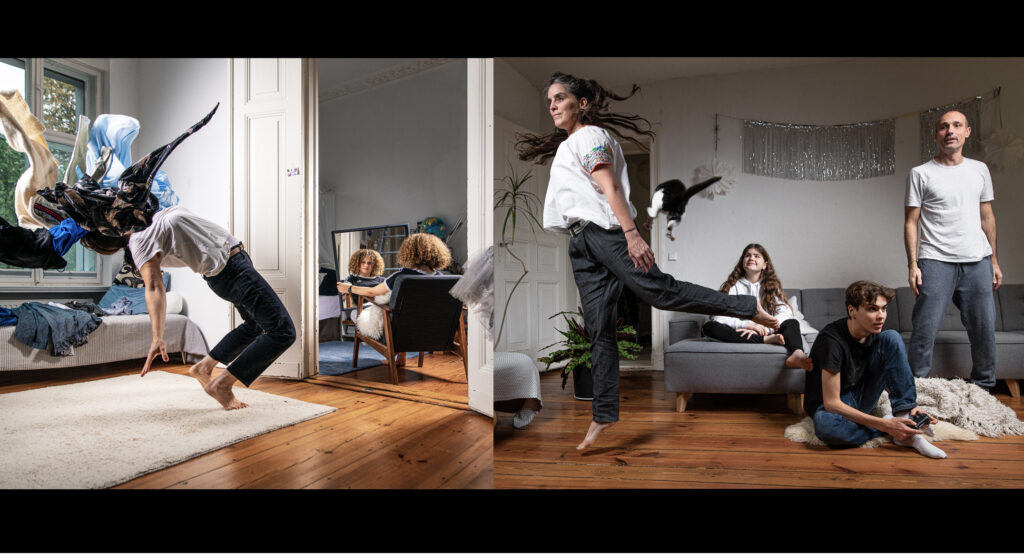 von Hanna Hegenscheidt / Ante Pavić & Natalia Torales
Age 10 and over
Venue: Podewil
Two dance shows focus on the family as the place where needs, desires and physical forces collide. Each show is about 25 minutes long and was created by a dance artist together with her children. We show both pieces in a double performance. There will be a short intermission in between.
Between a mother and daughter, everything is in flux. They have no need to keep their distance from each other, but sometimes it's there nonetheless. When that happens, a barrier comes down between their thoughts, feelings and imaginary words, as though someone has shut a door or put on headphones. Does this mean that they become strangers to one another? What can bring them back together? And is there some sort of distance control that determines how much closeness and distance this might take?
Choreography: Hanna Hegenscheidt
Dance: Hanna Hegenscheidt, Lotta Hegenscheidt
Co-direction/-choreography and script: Ulrich Huhn
Lighting: Martin Pilz
Four bodies, four torsos, eight arms and eight legs. What can it be? It's a living organism that's always coming up with new ideas and ending up in new situations. In other words, a family.
Based on their miniature dance piece 'Kein Kunststück' from 2015, the Pavic/Torales family has created a new show that deals with change. Six years ago, the four of them stood side by side, like the pipes of an organ. Now, the children have grown bigger, while the parents are smaller. What has stayed the same? What has changed? And what will happen next?
Choreography and dance: Ante Pavić, Azra Pavić, Emil Pavić, Natalia Torales
Composition, flute, alto saxophone, baritone saxophone, guitar: Clea Torales
Keyboards, electric guitar, bass: Boris Boublil
Baritone saxhorn, trumpet, whistle: Julien Rousseau
Vocals: Lena Whipple
Video design: Guadalupe Marín
Performer: Julia Sbaraglia Marín
Lighting: Martin Pilz
Assistance: Roberto Morales
'Kein Kunststück' music video/2015: Camille / "Quand je marche"