Club Oval – Crossover Dance Battle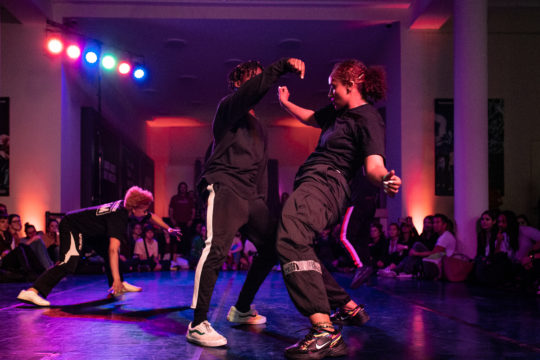 von TanzZeit e.V.
Club Oval is an event format that brings different dance styles together. Launched in 2013 by TanzZeit as an anti-commercial and anti-elite event, Club Oval has since become a fixture on the Berlin dance scene. It is both a forum for international dance artists of different genres and a gathering place for a predominantly young, dance-loving audience.
Dancers compete against once another over several rounds on an oval dance floor. The fusion of styles is unique in its sheer breadth: swing, krump, contemporary dance, twerking, ballet, African dance, hip hop, vogueing, tango and more all have their moment.
The idea of a battle comes from urban dance, but here's it's seen as more of a playful incentive. As the teams performing the different dance styles and the solo artists have to improvise to the music played by the DJ – funk, classical, hip hop and more – they come up with surprising new ideas and inspiration for moves.
The evening's winners in the categories of Team, Solo and Duet are chosen by a jury of experts. The audience decides the winners of the solo performances. During the breaks, they can get down on the dance floor themselves.
Artistic Director: An Boekman
Presenter: Jessica Jorgas
Organisation & Social Media: Lydia Thiele
Subscribe to our newsletter to find out the dates of the event as soon as they come out.
Club Oval takes place as part of Wildes Palais in Podewil, in conjunction with Kulturprojekte Berlin.