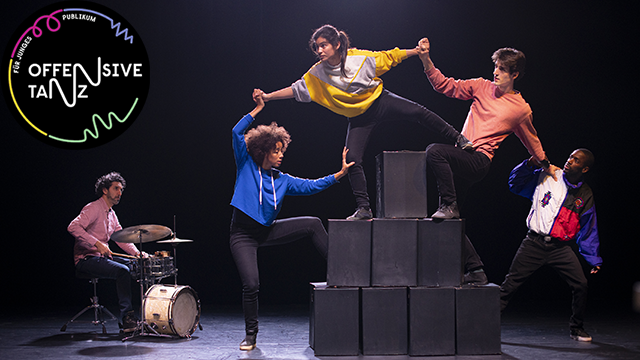 Dates
09.07.2023, 12:00 AM

on tour (Tempel Karlsruhe)

10.07.2023, 12:00 AM

on tour (Tempel Karlsruhe)
von Jasmin İhraç
Age 6 and over / Year 1 and above
Venue: Podewil
Four dancers and a musician embark on a quest to find the last tree in the world. They cross deserts and volcanic landscapes, dive down to the depths of the ocean and find out what it feels like to float through space. They take a step, dare to leap, hesitate, fall, run and discover what they're made of. In the course of this incredible journey, they discover ways of overcoming obstacles – those that they encounter in their immediate environment, and those in their heads. What challenges do we all face? And how can we encourage each other to take little big leaps?
Choreography: Jasmin İhraç
Dance: Mbegne Kassé (Ben-J)/Abel Navarro, Ana Laura Lozza/Tamara Saphir, Juan Corres Benito, Tatiana Mejia
Live music/composition: Ketan Bhatti
Stage/costumes: Giulia Paolucci
Dramatic composition: Joachim Schloemer, Livia Patrizi
Text: Sibylle Schmidt
Voice: Alina Hünting
Lighting: Martin Pilz
Interviews: With thanks to Laila, Celina, Furkan, Tuana, Berkay and Sema of the MANNA Malteser Hilfsdienst e.V. family centre, and to Ixchel Mendoza Hernández at Meira Recherche.
A production by TANZKOMPLIZEN as part of the Offensive Tanz für junges Publikum. TANZKOMPLIZEN is a partner of Offensive Tanz für Junges Publikum Berlin. Supported by TANZPAKT Stadt-Land-Bund with funding from the Federal Government Commissioner for Culture and the Media and the Berlin Senate Administration for Culture and Europe.