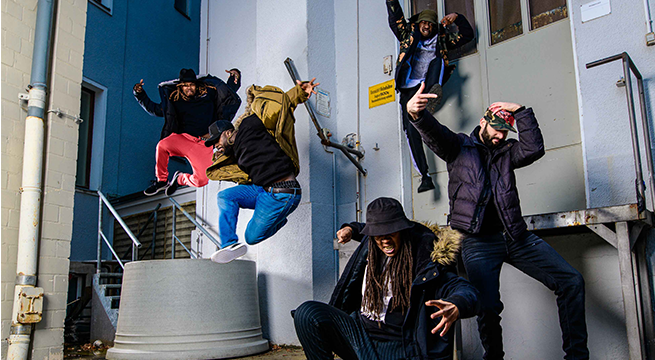 Dates
19.05.023, 01:20 AM

on tour (La Villette, Paris)

12.07.2023, 06:00 PM

on tour (Festspielhaus Baden-Baden)

13.07.2023, 10:30 AM

on tour (Festspielhaus Baden-Baden)
von Grichka Caruge
Age 11 and over / Year 6 and above
Igor Stravinsky's "Le Sacre du Printemps" is a key work of the 20th century. After the scandal at its premiere in 1913, it is still one of the most uncompromisingly modern works today and is considered a challenge for choreographers. "Sacre" breaks with listening habits and outdated traditions, the piece leaves no one cold.
The dance form Krump is also danced resistance. Born in L.A.'s Black community, the dance style is the embodiment of social inequality, a vibrant form of expression that is raw and energetic, a creative outlet for aggression that allows the wounds of exclusion and racism to speak for themselves. Yet Krump simultaneously enables self-empowerment in the face of feelings of powerlessness in the face of unjustly experienced violence.
"A Human Race" gives a stage to the dance form that emerged on the street and has brought one of Europe's most accomplished krumpers to Germany, Grichka Caruge, as choreographer. Together with five international dancers, he tells a story of empowerment with "A Human Race".
Stravinsky's "Spring Sacrifice" is reinterpreted and questioned: Who do we "sacrifice" in society, who do we expel? What does it do to us to belong to a group or to be alone?
Choreography: Grichka Caruge and Ensemble
Dance: Luka Austin Seydou, Solomon Quaynoo, Rochdi Alexander Schmitt, Mark Sheats, Émilie Ouedraogo Spencer
Script: Livia Patrizi
Production Management: Carola Söllner
Staging and costumes: Silvia Albarella
Lighting design: Arnaud Poumarat
Technical direction/lighting: Martin Pilz
Dance mediation
For all school classes interested in the piece, we offer a 90-minute workshop in advance. Krump dancer Esmir Srdanovic can visit your school in November, December or January (best held in a gym or hall). He covers iconic krump moves with the students and explains the philosophy behind this unique style of dance. Please register by emailing mallmann@tanzzeit-berlin.de
A production by TANZKOMPLIZEN as part of the Offensive Offensive Tanz für junges Publikum Berlin, in cooperation mit Cie Art-Track (F). Supported by Fonds Darstellende Künste with funds from the Federal Government Commissioner for Culture and the Media as part of NEUSTART KULTUR. With welcome support from the Institut français, the French Ministry of Culture/DGCA and the Centre Français de Berlin.
TANZKOMPLIZEN is a partner of Offensive Tanz für Junges Publikum. Supported by TANZPAKT Stadt-Land-Bund  with funding from the Federal Government Commissioner for Culture and the Media and the Berlin Senate Administration for Culture and Europe.