Movement workshops via Zoom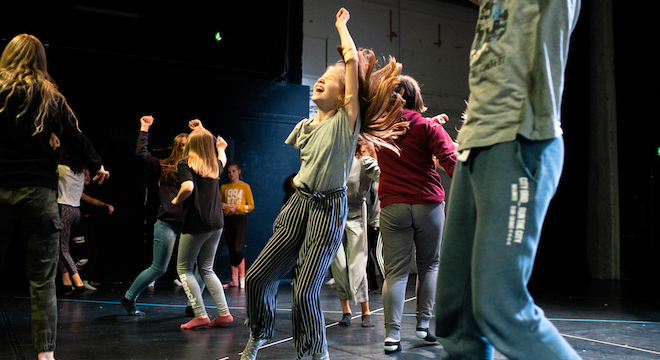 Dates
05.05.2021, 17:15 hrs
12.05.2021, 17:15 hrs
von Amelie Mallmann
Spielort: via Zoom
Are you not getting enough daily exercise? We regularly offer online movement workshops for adults and children who want to raise their awareness of their body and uncover new opportunities for exercise.
You don't need any prior knowledge. If you're interested in taking part for free, please register at mallmann@tanzzeit-berlin.de to receive a link to the Zoom platform.
BODY MAP Part 7: The whole body
Online movement workshop for adults
Friday 28/5, 5.15 pm–6.15 pm via Zoom
with Amelie Mallmann
In the final part of this workshop series, we look at our 'map': the entire body. Once again, we get all of the individual areas moving and look at how they impact our entire system. Breathing is key here, as the air flows to every last inch of our bodies. As ever, you will be provided with a picture of the body and some accompanying text. Anyone who hasn't taken part in the programme before is also very welcome.
The 'Body Map' series is aimed especially at people who want to get moving, whether you've been keeping active or not. You don't need any prior knowledge, just a bit of space and some pens and paper.
By the end of the series, we should have a whole archive of Body Map material, made up of the writings and pictures of those who have taken part.
These movement workshops are free, but we would be very grateful for a voluntary contribution towards our costs.
TanzZeit e.V.
Bank für Sozialwirtschaft
IBAN: DE95 1002 0500 0001 3062 01
BIC: BFSWDE33BER
Reference: Voluntary contribution towards the costs of a Tanzkomplizen workshop
FEEDBACK on the workshops
From children:
"Great – it was really fun!"
"Super-duper!"
"The best thing was being able to show off your costume and your own move for everyone to copy."
From adults:
"It did me good to get moving, work up a sweat and surprise myself."
"Thank you! I loved it."
"Thank you for this brilliant, fun, stimulating workshop! I think the three-quarter-hour length works really well, as you can incorporate it into your day-to-day from the word go. It was hugely inspiring. I'm looking forward to the next round, as it were! And so's my body!"