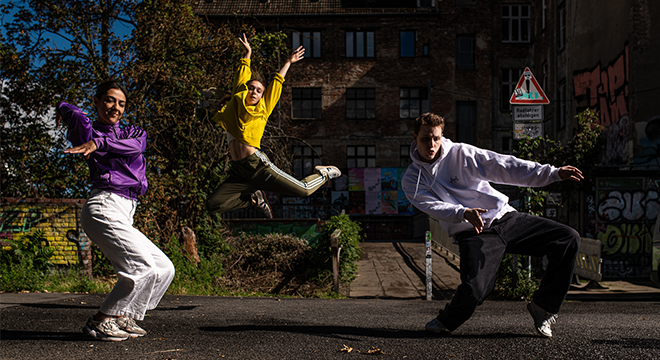 von Florian Bilbao, in collaboration with Lucia Matzke, Wibke Storkan and Tibor Szentmártony
Age 14 and over
Venue: School
WE transfer #1 is a journey through the history of dance. In an entertaining, humorous lecture performance, dancers Lucia Matzke, Wibke Storkan and Tibi Szentmártony and choreographer Florian Bilbao give the audience a personal insight into their own induction into the world of dance, and ask: How can we present dance in a more diverse way? How do our experiences with dance, body concepts and cultural influences interact with one another, and how can we pass on our knowledge and our own history in dance?
Concept/choreography: Florian Bilbao
By and with: Lucia Matzke, Wibke Storkan und Tibi Szentmártony
Musical Director: jayrope
Costumes: Laila Rosato
Script Consultant: Maren Witte
An accompanying workshop is also run in conjunction with the piece. 
Do you want WE transfer to appear at your school?
Drop us a line at jugendcompany@tanzzeit-berlin.de